Powerful Non-Defensive Communication Workshops
Being involved in and managing difficult situations and conversations can be a struggle. Even when we have the best of intentions, we ask a question or make a statement that shuts down productive conversation.  The other person reacts by withdrawing or flashing back and problem-solving slows or comes to a halt.  The skills of Powerful Non-Defensive Communication (PNDC) can help navigate these moments.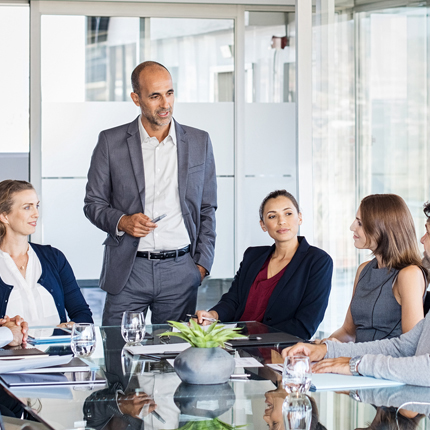 Developed by Sharon Strand Ellison, PNDC helps us construct conversations that reduce or eliminate defensive triggers. Those defensive triggers can cause people to close down, push back or get into power struggles that escalate conflict and damage personal and professional relationships.  The PNDC  model of communication helps people shift tone, body language and aspects of phrasing. When using PNDC, we ask questions differently, give honest and nonjudgmental feedback, and state our own position with power and clarity without the need to make others agree. PNDC allows us to set boundaries to hold others accountable without being controlling or punitive.
Resolving Conflict with Conversation
PNDC includes using more than a dozen types of questions that can quickly defuse defensiveness and get to the core of an issue. The formats for asking questions are designed to give us the ability to maintain confidence and integrity regardless of how others respond. They can also assist us in holding others accountable for what they are saying and/or doing. In addition, using these types of questions gives us the ability to deepen our understanding and connection with those with whom we are in dialogue.
The second aspect of PNDC focuses on statements. There are four formats for giving feedback and expressing our thoughts, feelings and beliefs in a way that brings together honesty, clarity, power & respect.  PNDC allows us to give feedback that is more likely to make people feel safe enough to want to listen to and value what we say.  There are three crucial steps for giving feedback that is direct and honest yet does not convey judgment.
PNDC also includes two highly effective formats for predictions. It includes ways to use authority without being either authoritarian or overly permissive.  The two types of predictions in PNDC are (1) Limit Setting, and (2) Challenge-Choice.
For more information about PNDC, please visit the website www.pndc.com.
Learn more about how the PRISM team can help your organization use PNDC. Call us today at 603.225.0477, or fill out our contact form.