About PRISM Conflict Solutions
We Bring Conflict Resolution to Your Workplace Through Ombuds Services
The PRISM team includes four experienced mediators with decades of experience in mediation and dispute resolution. We started our mediation practice, Hess Gehris Solutions, in 2008 focusing on mediating civil, probate, and professional disputes. Over time, we found that there was a need for an external ombuds service to help businesses address conflicts before they fester. In December 2019, we founded PRISM Conflict Solutions to focus specifically on helping clients address workplace conflict and improve team communication informally.
Every workplace has a unique set of organizational challenges.  In some organizations, no one is specifically tasked with developing solutions to increase positive workplace interactions. The PRISM team focuses on assisting groups to address challenging workplace dynamics before they create a rift in your organization.
We offer help to anyone who knows or suspects there is a conflict or challenging interpersonal issue in the workplace. Our clients include a variety of business professionals, HR Partners, Business Managers, C-Suite Executives, Boards of Directors, and front-line contributors who want to be proactive in addressing workplace issues.
---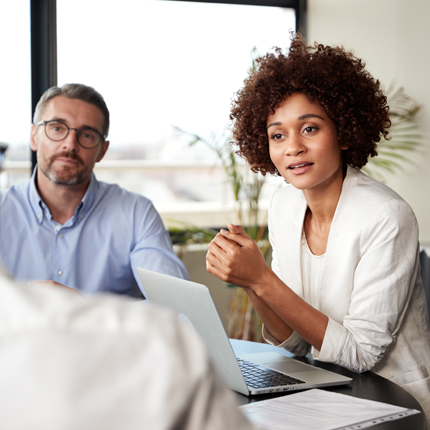 PRISM: Your External Ombuds Service
When your organization lacks the internal capacity or experience to deal with a potential conflict, that's where we step in. PRISM provides confidential, informal, independent, and impartial assistance to resolve conflicts and improve team communication. Because of the role we fill for our clients, some refer to us as an external ombuds service. Through a neutral lens, we can see the situation from a different perspective and help your team find the best path forward!
Where conflict already exists in the workplace, we focus on identifying the causes of conflict, strengthening the group dynamics, and building a process in which team communications advance the goals of the organization.  We have what many HR teams do not have: time and expertise devoted specifically to managing and resolving conflict in the workplace. We use that expertise to offer Conflict Management Consulting and Coaching, Leadership Training, Workplace Mediation Services, Team Facilitation Sessions, and PNDC Workshops!
---
We Help Your Business Address Challenging Workplace Dynamics
Every manager wants a team that's both effective and works well together, however, that's not always the case. Sometimes there's an unavoidable conflict involving a valuable member of the team that needs to be addressed. For example:
A team that relies on a great salesman who single-handedly brings in more than any five others – combined! And yet, he's a pain to work with, he regularly makes staff cry, and he behaves as though policies don't apply to him. He's an HR nightmare, and the reason you're losing talent to your competitors.
What do you do? Should you start an investigation, or hope the situation resolves itself? Or something else?
Contact PRISM Conflict Solutions to learn more about the tools and strategies that will help you in situations such as this one. We have experience managing these difficult dynamics. Meet our team!
---
The PRISM Team